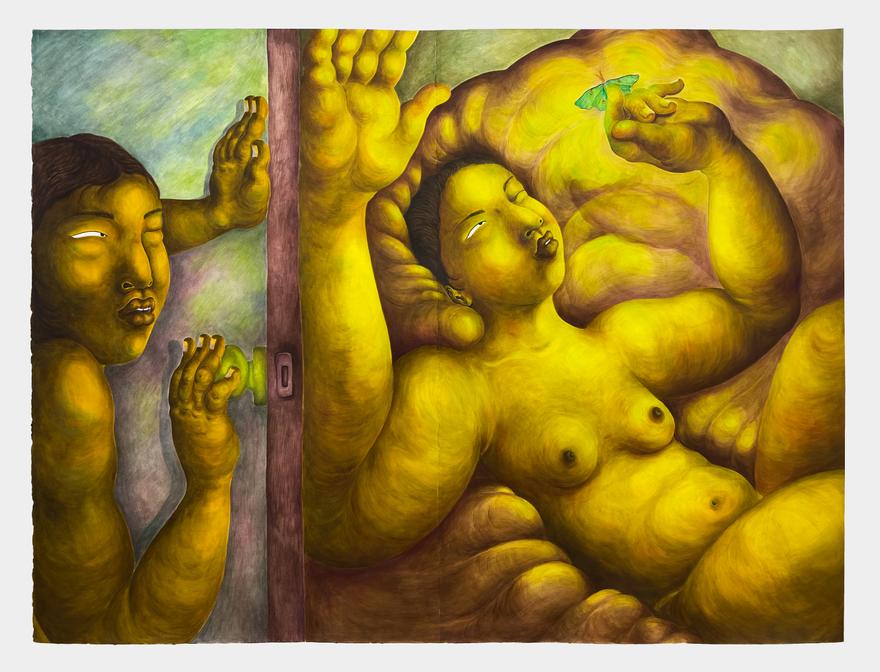 April 9 - May 29, 2021
Kapp Kapp, Philadelphia is pleased to announce I Wasn't There, Lily Wong's second solo exhibition with Kapp Kapp and her first exhibition in Philadelphia. Wong's suite of new works on paper, stretched paper, and linen continue her study of visibility as it relates to the creation of spectacle and absence. Gesturing toward the hyperbolic vernacular of cartooning and illustration, Wong engages with the digestibility of representational images and how they can be subverted and redirected to a pliable, psychological interiority.
Wong's practice has long hinged on perceiving our everyday dualities, often finding her signature, overstuffed figures at moments of undoing- whether of loss, love, or yearning. For this recent body, Wong has shifted her focus to the moments that follow, when sense of personhood is unmade.
Take I Wasn't There, 2020, the exhibition's titular piece, Wong's black and white figure lays in bed staring concernedly beyond the page, a spectral presence reaching for the figure whose stare suggests both a fear and understanding of this being, which both acknowledges and implicates the viewer. From the window, an inexplicable light source glows from behind a tree, perhaps illuminating the figure herself, whose braids are cheekily disguised as elements of the bed frame, further highlighting the impossibility of Wong's vignette. Disappearing both into her bed, with the sheets pulled up to her chin like a child, and likewise into herself, Wong toys with a paradox of visibility: to make one's existence known is also to become a ghost, a cycle that Wong continually visits.
In her recent work, Wong has reincorporated color into her practice, thinking specifically about her use of yellow both for its ability to illuminate the body and as a symbol for Otherness and the construction of East Asiatic femininity; Yellowness has come to serve as a tool both to vilify and mute and to amplify and animate existence.
In Wong's Contact, 2021, a warm, yellow figure lays aside a train track; Reclining on her rucksack, the figure, who is wearing a transparent cowboy hat, studies a gold coin, which, upon closer inspection, is minted with a bird identical to those soaring in the background. Vividly alluding to the Western Frontier of the 1800s, Wong recalls an image of the "Wild West," one which is romantically remembered as a "Manifest Destiny," but erases the Chinese labor that built it. Wong's birds directly reference Jacob Lawrence's famous Migration series, depicting the mass migration of African Americans from the South to the North following World War I and the terrors of Jim Crow. Lawrence's flock of birds symbolizes this migration, as much a desire for change as an escape from conditions forced upon them and the existence of both of these opposing and unresolved realities at once.
Wong returns to the image of coins through several works in the exhibition, most notably in Double Consciousness, 2021, where the central figure is illuminated by the glow of a coin sitting between her legs. Fraught with a look of confusion or wonder on her face, the figure sits below the arc of a coin toss; The golden glow of the coins is highlighted by the purple border framing the figure and cryptically dark setting, drawing attention back to the birds and female figures minted on the coins. With another reference to Lawrence's birds through the window in rear, Wong again nods to the coexistence of opposing realties; Quite literally awaiting a pre-determined ending, the figure is in a liminal space of trust and terror, start and finish. The title, Double Consciousness, metaphorically connects this space to a shift and oscillation between multiple selves, which, to Wong, is intimately tied to these moments of undoing.
I Wasn't There will be on view at Kapp Kapp, Philadelphia through May 29.
Lily Wong (b. 1989, Seattle, WA), lives and works in New York. Wong earned her BFA in Printmaking from the Rhode Island School of Design and earned her MFA from Hunter College. Recent exhibitions include Kapp Kapp, New York; Half Gallery, New York; and Ramp Gallery, London.