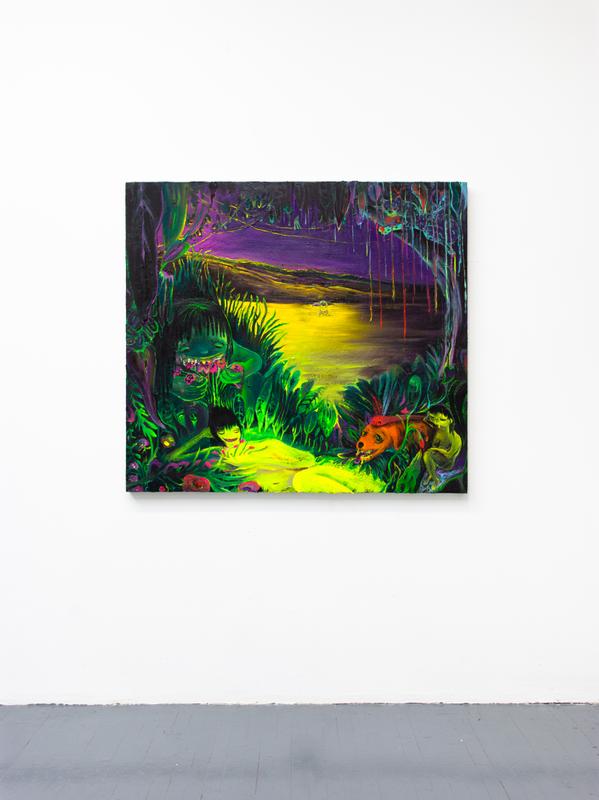 January 16 - February 28, 2021
Kapp Kapp, New York is pleased to announce Tsai-Ling Tseng: Minor Feelings. This marks Tseng's debut exhibition with Kapp Kapp and her first solo exhibition.
Tseng's heavily impastoed paintings are complex tableaux which reflect the artist's personal observations and encounters transformed through the alchemy of imagination. Using her signature figures, often anthropomorphic creatures metaphorically tied to an emotion, or humanoid figures with exaggerated yellow skin, a reference to her Taiwanese heritage, Tseng dissects her narratives with an equally vibrant and grim approach.
As she uses her figures to explore self-representation, Tseng finds her painting practice a direct way both to interact with her emotions and to express her identity as an Asian woman. Take Minor Feelings, 2020, the namesake for the exhibition that refers to Cathy Park Hong's memoir by the same title, a canvas enveloped by a large female figure at center, before an eerily bright, pink background. The figure gorges on a banana as she sits beside a hoarded mountain of the fruit, while behind her a much smaller figure, begging for a bite. On the surface, Tseng creates a parable about imbalanced resources, as she puts it "a criticism about consumption;" Simultaneously, Tseng's piece takes a jab at the characterization of Asian women as passive, obedient, and submissive, and subverts the fetishization of Asian women through symbolic hyperbole, the banana a direct reference to fellatio.
Tseng's narratives are a process of organic growth, both figuratively and literally. As the fictive scenes evolve and acquire narrative layers as they progress, so do Tseng's layers of oil paint. Often using palette knives and sanding machines to remove then rebuild her surfaces, there is a physicality intimately tied to each painting.
A work that further explores the theme of accumulation is Tseng's Dung beetle and her company, 2020, a vision of the artist herself as a dung beetle who carries an amassed mountain of shit on her back. Flies swarm the dung beetle's collection, which is in turn surrounded by Venus Fly Traps, which then consume the flies; using this image of a symbiosis, Tseng comments on and poke at her own habits of consumption and aggregation.
In a work about her native country Taiwan, Tseng's A famous dish/ monkey brain table, 2020 refers directly to a regional Chinese tradition of consuming raw animal brain. Central to this painting is a yellow monkey beneath a dining table, its face and open skull atop the table as if a silver dish had just been lifted to reveal it. To Tseng, the central figure is a metaphorical representation of the Mandarin speaking population, with the Chinese Communist Party eating their brain, "the death of knowledge," in Tseng's words. Referring to the autocratic regime destroying and dismantling sovereign territories like Hong Kong and Taiwan.
Minor Feelings will be on view at Kapp Kapp, New York through February 28.
Tsai-Ling Tseng (b. 1991, Taipei, Taiwan) lives and works in Brooklyn, New York. Tseng received her BFA from the School of Visual Arts, New York and her MFA from The School of The Art Institute of Chicago. Recent exhibitions include 36 Paintings, Harper's Books, East Hampton, NY; New Directions 2019, curated by Akili Tommasino, Barrett Art Center, Poughkeepsie, NY; and If These Walls Could Talk, AHA Fine Art, New York.