Other Gardens
---
October 31 - December 31, 2020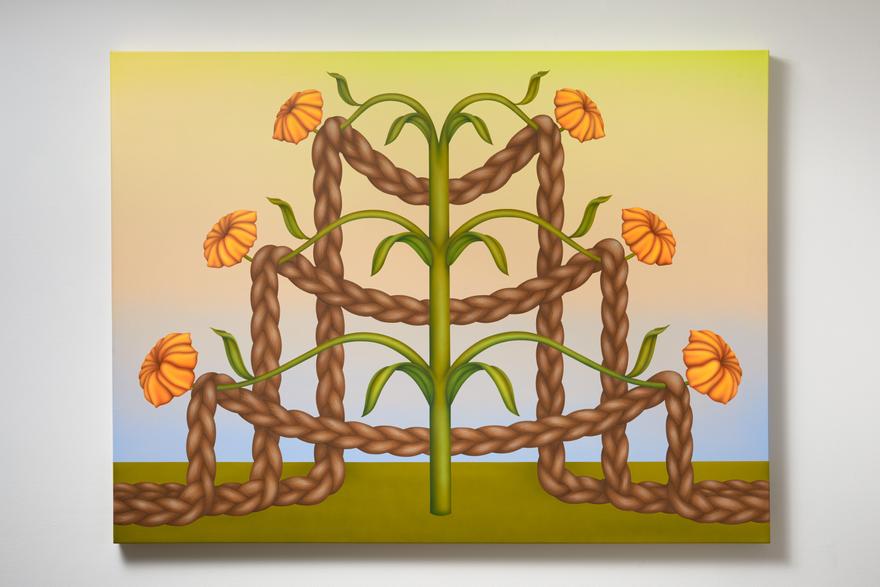 October 31 - December 31, 2020
Kapp Kapp, Philadelphia is pleased to present Molly Greene: Other Gardens. This marks Greene's debut exhibition with Kapp Kapp and her first solo exhibition. Greene's new body of work, which was made entirely throughout her quarantine, uses human and plant forms to abstract our assumed and pre-existing relationships, redefining our understanding of the bodily, the living, and the natural.
Greene's paintings, known ostensibly for their striking scenes of humanesque flora and vignettes of incarnate hair and braids, seek to recalibrate and confront our preformed notions on these objects by at once transforming them into subjects and back to objects. Greene's interest in hair defines this dichotomy, as hair is both of the body and removed from the body, object and part of the subject. As Greene notes, "Brown hair is one of the most familiar materials in my life. Most of the people I love are covered in brown hair. I touch and braid and tie up and take down my own brown hair many times a day. I became interested in the project of making this deeply familiar material seem alien or strange and in how that process of defamiliarization might alter my perception of it/myself."
Greene often returns to hair as a surrogate for the body. Both a symbol of porousness and excess, feralness and constriction, Greene's personifications are representative of internal anxieties and cares. Armed Response, 2020 combines Greene's signature braids with a towering floral structure, inventing a mechanized architecture with traditionally femme objects. Positioning the two, both in unison and in opposition, Greene's structure playfully prods at our associations. Using the title to reference a militaresque rebuttal, Greene smoothly repositions these materials and proposes a new matrix for understanding a relationship between the two, challenging both herself and her viewer to pause and reconsider these forms.
Greene's work queers the boundary between object and subject, the natural and unnatural. Take Between Blooms Super, 2020, which forms an arched silhouette, reminiscent of a garden gate, using brown braids. Positioned before a sky reminiscent of Caspar David-Friedrich and the German Romantics, Greene's composition re-forms and resituates this familiar object into a new, but likewise familiar, structure. Generating new life for this object in its animation, Greene's braids together form a new object, evidencing both the familiarity of the old and the enchantment of the new.
The Twins, 2020 invents an equally magnetic landscape; contorting the stem of a hair-covered leaf-like organism around a purple flower. Greene's plant-human hybrid creates an almost interpersonal relationship between the two objects. The perceived "naturalness" of the flower distorts the understanding of the hair-covered form and vice versa. Somatic in its bodily hairs, Greene simultaneously adjusts our perspective and creates a new "natural" form, at once questioning and answering what defines "natural."
The surreality of Greene's work is, in part, indicative of the context in which they were made and reflect upon Greene's interest in the Absurd. Greene conceived of and painted these pieces during a summer of upheaval; massive protests over the police killings of unarmed black men and racial injustice, apocalyptic wildfires that blanketed LA with smoke and the ongoing COVID-19 pandemic. In many ways the act of painting at this time is a means of coping with the violence of the past and present, as well as the uncertainty of the future.
Molly Greene (b. 1986, Cornwall, VT), lives and works in Los Angeles. Greene received her PhD, MA, and MPhil in American Studies from Yale University and received her MESc in Environmental Science from Yale University. She has exhibited at The Hole, New York; 0-0 LA, Los Angeles; and Sower Tower, Burlington. Upcoming exhibitions include Here, Pittsburgh; Ramp Gallery, London; and Kapp Kapp, New York.