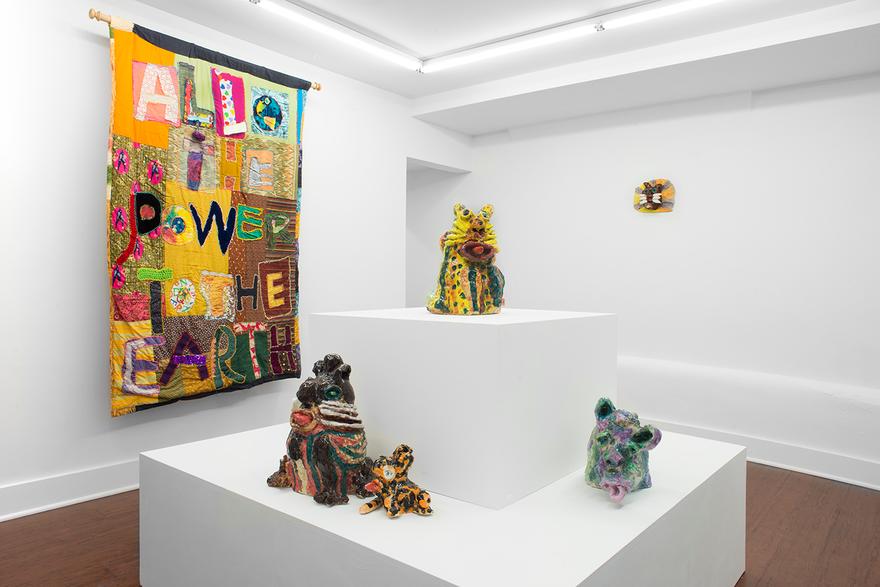 July 6 - August 15, 2020
Kapp Kapp is pleased to announce Never Look Down on Anybody Unless You're Helping Him Up, its debut exhibition of California-based artist Dorrie Reid, and Reid's first solo exhibition. Reid (b. 1957), will present ten recent ceramic sculptures and a wall-hanging quilt at the gallery's Philadelphia location.
Reid's inspirations are wide-reaching, from animals and environmental concerns, to pop culture and the Black Panther movement. Working between many media, the artist's vibrant and energetic ceramics are the keystone of this exhibition. With examples of African and domestic cats, technicolor horses, and even convexly reptilian figures, Reid's powerful new images, encapsulate the energy of her subjects through playful and exciting means.
Take Untitled, 2019, a free-standing ceramic cat sculpture, for which Reid has charmingly exaggerated its features, applying a humanoid nose with bulging eyes, a wide, open mouth, and a tail curling into the shape of a heart. Doubling down on its spirited form, Reid applies several colors of glaze in vertical stripes and an outer layer of polka-dots, furthering her spontaneous animation. Or take Reid's Untitled black cat sculpture (again referencing the Black Panthers), almost arachnid in its wide sprawl and red detailing, the artist's abstraction is built upon her familiar imagery.
The title of the exhibition comes from a ceramic wall piece, with the same saying interspersed with polka-dots, stripes, and more cat figures, repeating the same motif as in Untitled, 2019, and at once reminiscent of Howardena Pindell's canvasses. Reid often returns to text as a succinct communicative device in her work. In Reid's 2018 wall-hanging quilt All The Power To the Earth, which toys with the iconic slogan of the Black Panthers, the artists suggests the same political urgency to protect the natural environment. Reid's repetition and alteration of this powerful phrase is not unlike her repetition of familiar images. Reid's process allows her to analyze and imagine a vibrant and inventive new form.
Reid, who works out of Richmond, California's NIAD Art Center, lives with a developmental disability. Never Look Down on Anybody Unless You're Helping Him Up will open on July 6 at Kapp Kapp, Philadelphia and run through August 15, 2020.