Cult Classic
---
November 20, 2021 - January 8, 2022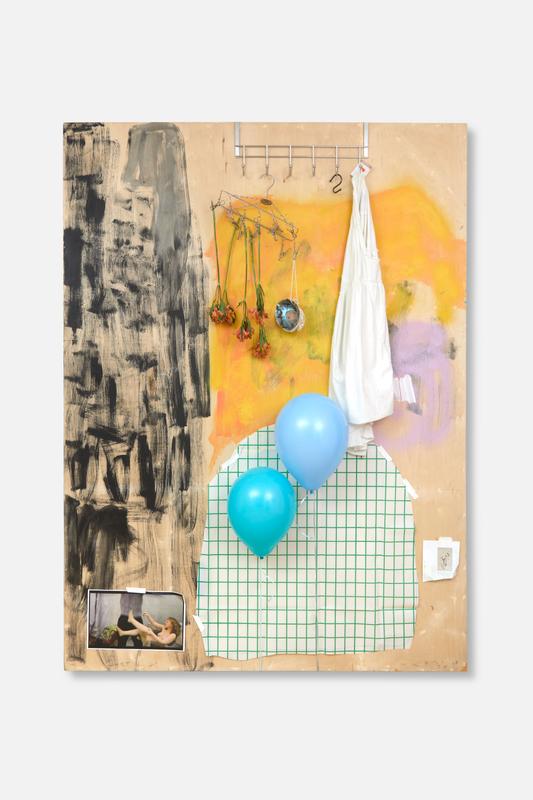 November 20, 2021 - January 8, 2022
The General Calendar (with accents) of Hannah Beerman
I discovered Hannah Beerman on Instagram. I saw her studio and it was a gorgeous living mess and I wanted to know this person who lived that way and posted it. It undid the master illusion entirely. That's the ongoing masterpiece of female and trans art now. It pulls down the patriarchy. What serious art is good for. And unserious art doesn't do at all. I was actually thrown out of the classroom in grade school for being messy. They would fling my desk open & reveal the rejected solutions to school. The nun did cartoons of me on the blackboard. What I was was a thing to be mocked. I hail the chaos Hannah Beerman lives and creates in so I sent her a message and she invited me over. Or first she told me about her show at Kapp Kapp. After that I came over. We live pretty close. The paintings in the gallery were funny and bright and full of surprising switches like a wonderful trail. They were thick and liked language and obviously were things that thought. Each painting was a dense bright thought. I enthused to the guy behind the desk then I came over. There's an order to this. There's something very special about walking six blocks to someone's apartment, studio, life. I thrive within the idea of neighborhood since it's immediate and connected and somewhat antique (like Joan of Arc) but abides in different ways all over the world springing up in places where everyone thought it died. Hannah lives in the former apartment of an old friend, and even sublet it then from someone else I know so she's an artist making in a legacy space which is cool and more than that places hold vibes and ones that I think have welcomed her who lives deeply in her own work which is the present. She makes bright delicious paintings which are systems and greetings and jokes. I have a small drawing/painting of Hannah's pinned to my kitchen wall. She gave it to me the first time I came over. Five orange stripes on yellow, a horse and a dog and blue tape framing and marking the encounter. It says Janus at the bottom and it means the animals looking both ways and it pulls like time an unwieldy animal if there ever was one. I feel this small painting is calendar of sorts. Not specifically but generally in a way you wish calendars were but art is. Hannah from the second I met her seemed tuned exactly to that station. The general time of art. Excitedly I'm going to her place on 9th street at 9AM tomorrow morning to beat the ones taking these paintings to this show. I've seen them before, I've breathed them. But it's morning now so here. I unroll my art in this service like a rug:
These are in fact seeds. Sprayed erratically on the top of this big yellow painting. I could ask her to remind me what the seeds are but I just said we can't talk. It's pretty controlling of me turning Hannah's studio into my studio. I see a ram down at the bottom of the painting. A ghostly ram looking out. And a tiny clipping something about Satie. I quickly go away from that painting to the next. Lush pink is the yellow painting's friend & now I have this one. Hot sky, and then barrage of purple coming in from the east bolstering the case the big moment of simply beautiful painting (the action) observed by coupla of chicks in tight pants. I say chicks to indicate vintage. The stone in the painting jumps to a dog couch. This is Hannah's genius. What can be attached to a painting is all of the world or another painting. I bent my pad I'm writing on like a guitar. How was your morning. Below the dog bed is the tiniest [blank] cloud. I can't remember that word. Things cast shadows from Hannah's work. This is her show the leap from color to absurdity to small pasted in details cross hatched (green and white) with rescue tape. I get a poem feel, I always have that but hers is musical verse. Verse being a ploughing word like strokes. The painting is quietly loud, boisterous entering the room with a bold shrug as if there were nothing but this I'd see it all day echoing this pink tint owning the world again & again. Small paintings constellate the big ones. Little guys shroud the neighborhood of the big pink one. One wormy blue ("blue de loop") line surrounds a pink scrubby that looks like jaws, (2) the lopsided cross hatched re-papered one ("small scar") its guts show like a zipper, then 3) "cult classic" line breaks cult class/ic duly framed in an awkward stream of yellow grey it deserves an entire library for itself of blue books. And genital (white) fingers ("Ella") one more thing a human inviting us into a vortex (shitty word) of hot enamel paint screaming, dumped farcical and precise somehow, the fingers saying: this.
Boy how did I miss all the language & hopscotching and sectionality in this big yellow painting. It's got other paintings hidden for years arising as you open the cave and the color blasts.
Oodles of "O"s in ("Does Lot's Wife Ever Get a Name?") with leafy guys & kind of a Blakean woman exposes a leg but also shows something unseen. The openness of green & humans so shut. Tragic. Men are filling the distance with this shit. All sent into repose by Hannah.
The big white one makes an arch and goes on making spaces within spaces and some dainty bits and porny bits. What is this some kind of class. A learning experience. But the humpy mound forged by the black lines is the real painting the dancing captured in its moat. ("Tulipping Naked Golf")
Wednesdays tend to be prehistoric is the name of two fine spectres collapsing onto a grid. Squatting there I just saw a pompom fall on another painting as a candle flickers & some generic but alright rock rings on the tiny speaker on the sill and then chimneys and New York is out there. Then the singing begins.
No what I mean is candles flickering everywhere (I look around) weather drooling on the window. Dirt.
Wednesday strikes me over the bed half lavender & pink & an almost talkative pattern slap slap slap of those herbs or whatever. I find this in itself almost a complete weather painting, a bright and devastating experience. Pattern and gesture and hue all perched confidently over an abyss (or the Holland tunnel) like Poe.
Nacreous is the word I couldn't remember before. Flowers hitting that shell accompanied by night gown and at home the painting might be furniture and in gallery the intimacy is pure vernack.
The risk of that coppery tree like bark on the left side of this one (I'm in the kitchen) "you are my favorite profile" means that inevitably the balloons will lose their air but air is cheap so far. There's so much stuff in her work, Hannah Beerman's that painting feels like illustration or narrating. Or singing. It's thrust. Paint tells a strong story against the hard objects giving them a home loves them violently and good.
This is seriously dangerous work ripping open painting to see what it can hold. Hannah Beerman owns the world.
Text by Eileen Myles.
Cult Classic will be on view at Kapp Kapp, Philadelphia through January 8, 2022.
Hannah Beerman (b. 1992, Nyack, NY) lives and works in New York City, having received her BA at Bard College and her MFA from Hunter College. She has exhibited at Kimberly Klark, Brooklyn, NY; Monica King Contemporary, New York, NY; Asya Geisberg Gallery, New York, NY; and New Release Gallery, New York, NY. Recent exhibitions include Hannah Beerman and Meg Lipke, Ober Gallery, Kent, CT and You Got Your Secret On curated by Aaron Michael Skolnick, Quappi Projects, Louisville, KY.